To sign up for a Hostmonster account, first click this link  (affiliate link)
You will see a page that looks like the image below. Click on "Sign Up Now."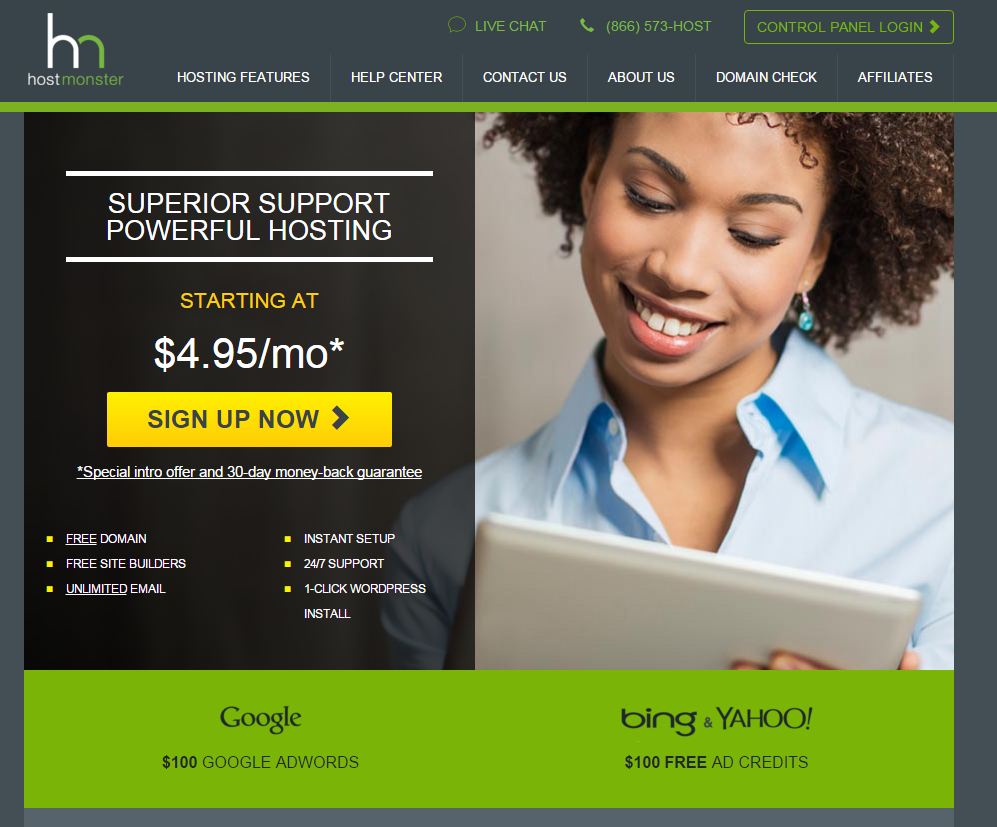 The next screen will ask you to select your plan. (Note that the sale prices are for the initial term only and for 36 months – if you sign up for a shorter term the prices will be higher.)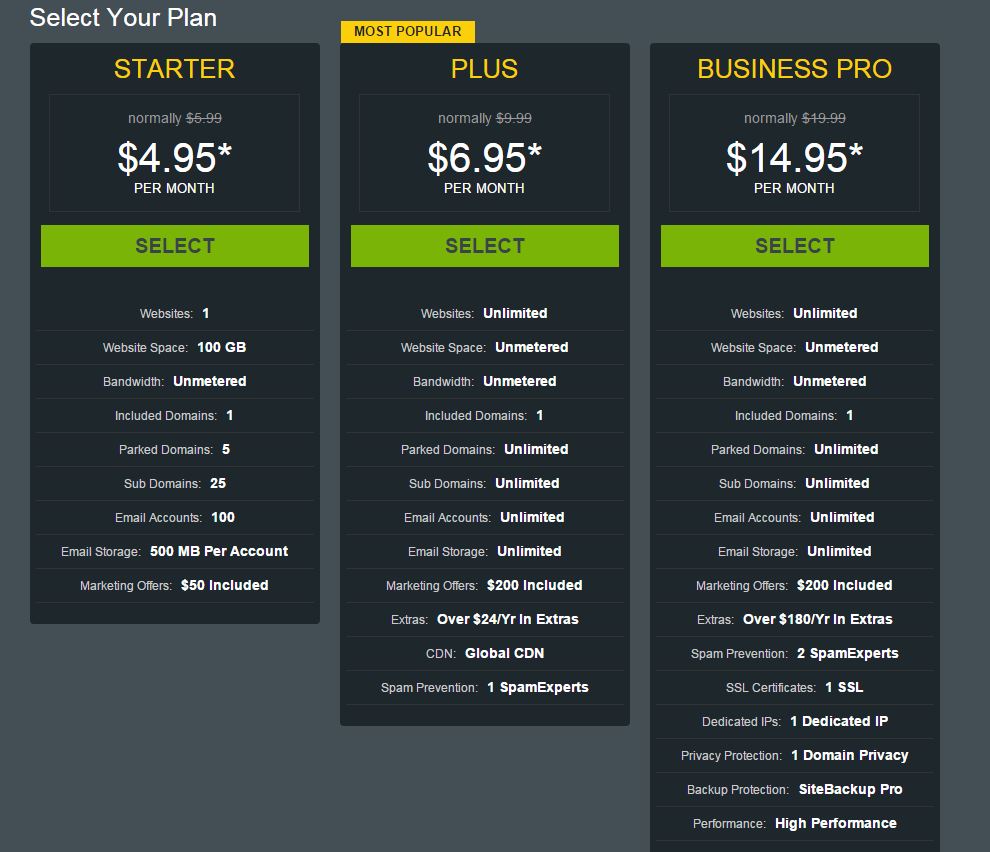 So what should you choose? I select Plus because I like the flexibility that allows me to add additional websites and not have to worry about storage space. However, if you know that you are just going to have one website and it's not going to be large, the Starter package should be fine. If you have an ecommerce site, you will should look at the Business Pro package because you will need a dedicated IP and SSL certificate.
Click the green button to select.
In the next step you need to select a domain name to associate with your account. Your account name will be a domain name. If you don't have a domain name, enter the domain name you want to register under "I need a domain name" and click Next.

If your domain is available you will get the next screen. Complete the information on screen.
Next step – add billing information. You can also pay by Paypal and other methods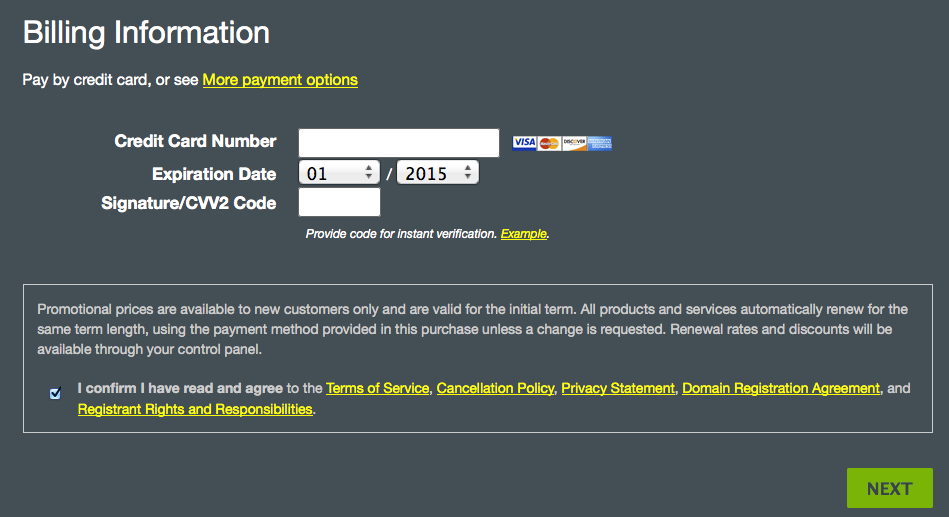 Next step is the package – please review this carefully!
Hostmonster defaults some selections so make sure you want what you are paying for.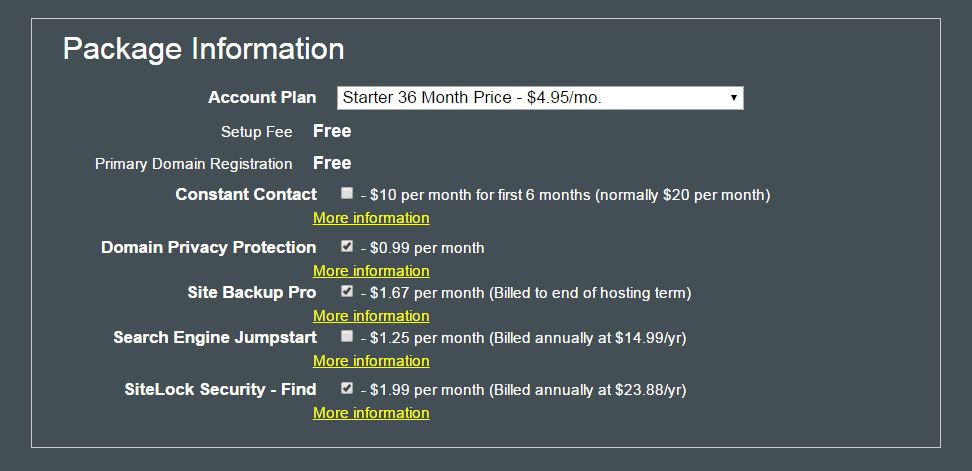 1. Account plan — The plan defaults to 36 months. The benefits of this is the longer the term the lower the price AND you lock in the sign up price for 3 years. The disadvantage is that you have to pay for the 3 years all at once. Select a shorter term if you wish.
2. Domain privacy — Checked by default! If you want to cut down on spam and even junk mail, select domain privacy. Your contact information has to be registered with your domain, but domain privacy will hide your contact information from the public.
3. Site backup pro — Checked by default! If you have another backup option, then you don't need this. However, if you don't do an automated backup or don't remember to do a manual backup, this might be money worth spending.
4. Search Engine Jumpstart — I usually don't recommend this because I work with my clients on search engine optimization.
5. SiteLock Security — Checked by default! I've had mixed results with this.
5. Google Apps for Work — Only sign up for this if you are sure you need it. I have some clients who use this and some who don't.
After you have selected what you want you will see the total below. Continue on through the payment process.
You will then be asked to select a password. Hostmonster requires that a password include upper and lowercase letters, numerals, and punctuation/special characters.
You are now the proud owner of a Hostmonster account!
ONE FINAL STEP!
Hostmonster will call you to verify your account — to make sure that you are a real person. Answer the call or return the call to verify the account or you could  have troubles going live with  your new website.